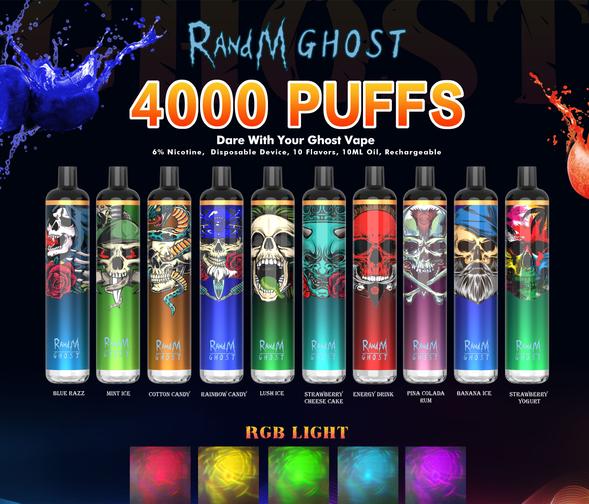 RandM Dazzle Ghost Led light Disposable Vape Pod Devices Wholesale (4000 Puffs)
RandM Ghost is a disposable vape device with colorful RGB light and it is rechargable. It contains 8ml 6% nicotine salt e-juice and vape up to 4000 puffs. There are 10 flavors for you to choose. The RGB light makes it the coolest disposable device plus it comes with a rechargeable usb port at the buttom of the device, which gurantte you finish the last drop of the ejuice in the tank and light glowing all the time.
RandM Ghost Disposable Device Features:
6% Nicotine Salt.
8ML of E-liquid.
4000 Puffs per Device.
6 Colors RGB Light
Battery Rechargable
Integrated 1000mAh Battery.
10 Flavors Available.
10pcs in a display box.
300pcs in a carton.
Flavors Available:
1.Mint Ice
2.Blue Razz
3.Banana Ice
4.Cotton Candy
5.Rainbow Candy
6.Lush ice
7.Strawberry Chesssecake
8.Energy Drink
9.Pina Colada Rum
10.Stawberry Yougart